Scream in fear with the Spooky Nights Halloween Holographic Projector!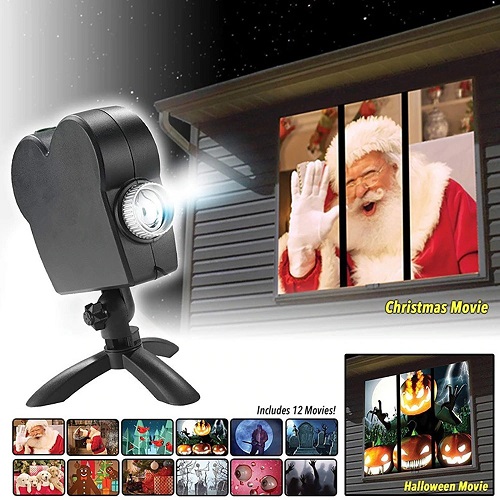 Window Wonderland Projector is the revolutionary projector that transforms average windows into spectacular displays! Holiday decorating will be fast and easy. Place the projector near any window. Then add the adjustable 1.21-meter by 1.83-meter (4-feet by 6-feet) easy fit screen. Select the built-in movie you want to play and start the show.
Celebrate the horror of Halloween or the joy of Christmas in stunning fashion.
Window Wonderland Projector features an adjustable stand so you can get a perfect picture. And the one-touch switch allows you to start movies with the press of a button. There's no complicated set-up or installation!
Window Wonderland Projector uses the latest projection technology to create bright and colorful movies. Bring your home to life with Window Wonderland Projector.
The perfect solution for easy decorating on any holiday and other special occasions, like Halloween, Christmas, birthdays, office parties, Easter, 4th of July, Valentine's Day, or any time you want to add some fun to an empty environment.
SPECIFICATIONS
- Projects festive movies onto your windows
- Transforms windows into moving holiday displays
- New for 2019 full-color holiday window projector system fits any window horizontally or vertically
- Plays 12 movies, 6 Christmas and 6 Halloween
- 4-foot by 6-foot white translucent rear projection screen included
- Wattage information: bulb uses < 5mW
- Voltage: 110 to 240V
- Works with any plug: US, UK, EU, and AU Plug.
FULL-COLOR MOVIES: Full-color window movie projector plays 16-second movies in your windows - perfect Christmas and Halloween decorations.
12 PROGRAM PROJECTIONS - 6 Halloween movies, 6 Christmas movies.
USE -- no setup, no installation, just plug and play.
HOUSE DECORATION: The projector with stand projects on any window horizontally or vertically, making it the perfect tool to decorate your home effortlessly this holiday season.
EFFECT - placed on a window or wall, high resolution, incredible animation effects, very realistic, adding a festive atmosphere.
Automatic Timer & Remote Control: Portable Wireless RF remote control toggles the rotating speed, twinkled speed, single color circulated and double colors circulated modes. Remote range up to 40ft and can break the wall. Built-in timer function, you can set time to keep 2/4/6 hours on, 22/20/18 hours off in a daily cycle, no need to remember to turn it on or off manually.
Waterproof Design: High-grade waterproof effect. Sealed design, weatherproof cap, can withstand snow, heavy rain and strong sunlight. Note: please don't soak Christmas pattern projector light in water directly. Perfect for any indoor and outdoor celebration moments or ambiance.
Easy to Install and Use: Sturdy base and stake, which can be placed on the platform. There is a stake for outdoor use by stuck in the ground as well as the flat base for indoor activities. Just find the place you want then plug it into the ground then choose a slide you want to project and use the remote controller to change to the color or set a time for working.
Free Insured worldwide shipping

24/7 customer support (Real People Behind the Desk)

30 day money back guarantee (Risk-Free)

Tracking number
We Ship To All Countries Worldwide.
Orders are typically processed and shipped out in 1-3 business days. At any point in the process you can check the status of your order using Order Tracking page. This will show you all tracking updates related to your order.
Delivery may range between 4-11 business days depending on the shopping season or high demand for our Products. We do our very best to get the products you love to your doorstep as fast as possible.
Here at PuraGlow we pride ourselves in giving our customers the best experience as possible. Although our customers love our products 100% of the time, if you for some reason are unsatisfied with your product you may return it for a full refund or exchange within 30 days of placing your order.
If you have any other concerns or questions, please visit our Refund and Returns Policy page.