Enjoy cool anytime, anywhere! Creative sunken design to prevent cool air overflow and reduce temperature gain.

MATERIAL
The food-grade aluminum cup is made of high purity special food-grade aluminum. It has the characteristics of lightweight and strong conductivity. Compact and convenient, stylish shape, cup capacity 500ML, anti-slip mat on the bottom.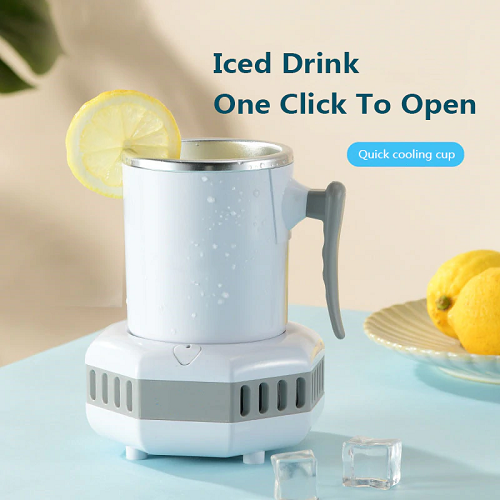 INSTANT COOLER
Our Cup Cooler adopts an advanced refrigeration chip, the cup cooler can cool the drink to 0℃ - 5℃ (32-41 Farenheight) in 16 mins, 5 times faster than a refrigerator. The instant cooling cooler can lower the temperature of the metal base to 20℃ within the 30s.
APPLICABLE PLACE
Suitable for many places and drinks, suitable for families, houses, bars, cafes, hotels, restaurants, parties, buffets, and so on. Provides longer cooling for whiskey, cocktails, ice cream, drinks, ice cream, yogurt, juice, etc. And enjoy cool anytime, anywhere.
The Method of Use is Quick and Easy
If you use the aluminum cup directly, pour the drink into it to cool down. To cool bottled, canned, and boxed beverages, add a small amount of water to the aluminum cup and place the packaged beverage.
SILENT AND ENERGY SAVING
Built-in silent machine, it is no noise, it won't bother you when you use it at home. It has a sunken design to prevent cold air spilling and energy saving.
Free Insured worldwide shipping

24/7 customer support (Real People Behind the Desk)

30 day money back guarantee (Risk-Free)

Tracking number
We Ship To All Countries Worldwide.
Orders are typically processed and shipped out in 1-3 business days. At any point in the process you can check the status of your order using Order Tracking page. This will show you all tracking updates related to your order.
Delivery may range between 4-11 business days depending on the shopping season or high demand for our Products. We do our very best to get the products you love to your doorstep as fast as possible.
Here at PuraGlow we pride ourselves in giving our customers the best experience as possible. Although our customers love our products 100% of the time, if you for some reason are unsatisfied with your product you may return it for a full refund or exchange within 30 days of placing your order.
If you have any other concerns or questions, please visit our Refund and Returns Policy page.