The Perfect Travel Companion for Your Makeup Needs!
FEATURES
 PORTABLE : Whether you're taking a quick day trip or traveling across the globe, this makeup case will take care of any needs imaginable. 
 STYLISH : The classy but modern design is perfect for anyone looking for an original alternative to their basic makeup bag.
 NATURAL LIGHTING : The integrated LED light casts a natural, true shade of light on your face during makeup applications. 
 EASY TO USE : A single-tap button turns the light on or off, and is used to adjust the brightness levels.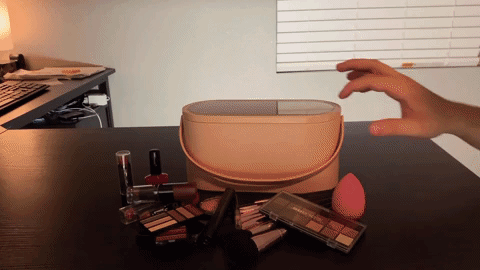 ADAPTABLE MIRROR STAND : The rotatable bracket allows you to use the mirror from any angle or position. You can stand the mirror up on the corner of its case vertically or horizontally. Likewise, you can also let it rest it on a countertop.
 LONG LASTING CHARGE : The built-in 1500mAh lithium battery is USB chargeable and will last for up to 50 hours of use.(charger included).
Free Insured worldwide shipping

24/7 customer support (Real People Behind the Desk)

30 day money back guarantee (Risk-Free)

Tracking number
We Ship To All Countries Worldwide.
Orders are typically processed and shipped out in 1-3 business days. At any point in the process you can check the status of your order using Order Tracking page. This will show you all tracking updates related to your order.
Delivery may range between 4-11 business days depending on the shopping season or high demand for our Products. We do our very best to get the products you love to your doorstep as fast as possible.
Here at PuraGlow we pride ourselves in giving our customers the best experience as possible. Although our customers love our products 100% of the time, if you for some reason are unsatisfied with your product you may return it for a full refund or exchange within 30 days of placing your order.
If you have any other concerns or questions, please visit our Refund and Returns Policy page.