Our Automobile Chassis Cleaning and Road Cleaning Nozzles use smaller start-up pressure and faster speed for better cleaning outcome!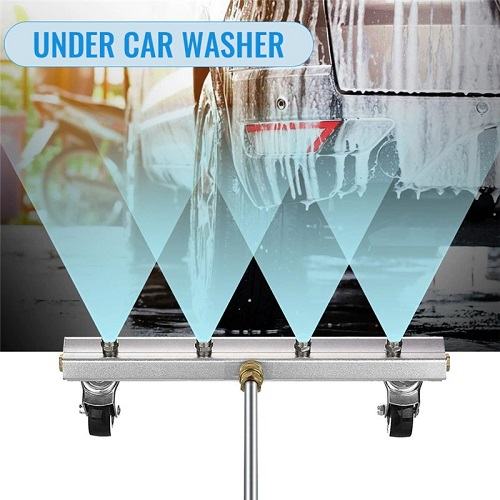 This chassis power washing machine cleans road grime, oil, and fuel contaminants under cars, trucks, SUVs, commercial-size vehicles and trailers. It has 4 nozzles for cleaning car chassis, that makes it easy to control.

Moreover, this chassis washing machine features easy cleaning narrow gaps to avoid crawling under a vehicle.

This washing machine is suitable for both hot and cold water. Besides, this machine is ideal for sweeping loose debris, such as sand, leaves, light mud, etc.
KEY FEATURES:
-4 x 40 degree nozzle cleaning car chassis
- Easy to control Easy cleaning narrow place Using the new design
- Smaller start-up pressure
- Faster cleaning speed
- Better cleaning effect

SPECIFICATIONS:
- Material: Aluminum Alloy
- Working pressure max: 30Mpa
- Operating temperature: 10-60 degrees
- Inter size: 1/4"
- Application: The machine is connected with the air source to Chassis Cleaning.
Free Insured worldwide shipping

24/7 customer support (Real People Behind the Desk)

30 day money back guarantee (Risk-Free)

Tracking number
We Ship To All Countries Worldwide.
Orders are typically processed and shipped out in 1-3 business days. At any point in the process you can check the status of your order using Order Tracking page. This will show you all tracking updates related to your order.
Delivery may range between 4-11 business days depending on the shopping season or high demand for our Products. We do our very best to get the products you love to your doorstep as fast as possible.
Here at PuraGlow we pride ourselves in giving our customers the best experience as possible. Although our customers love our products 100% of the time, if you for some reason are unsatisfied with your product you may return it for a full refund or exchange within 30 days of placing your order.
If you have any other concerns or questions, please visit our Refund and Returns Policy page.